Welcome to Panáche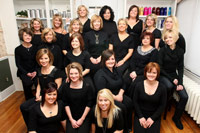 Escape to Panáche was established in 1988 by three partners. Bonnie Goffena, Sharon Money, and Julie Rice started the small salon on main street in the basement of a flower shop. The salon was in this location for eleven years.
After purchasing the Stump home in 1999, Panáche became a salon and day spa, with Bonnie and Mike Goffena the owners. The name was changed to Escape to Panáche Salon & Day Spa.
Our Panáche family is a very close-knit team, with many of the original employees still here. We provide an upscale, friendly, and professional atmosphere. We pride ourselves with great customer service and a very talented group of professionals.
Gift Cards Available
See your stylist for information. Gifts can be made for any amount and any service.